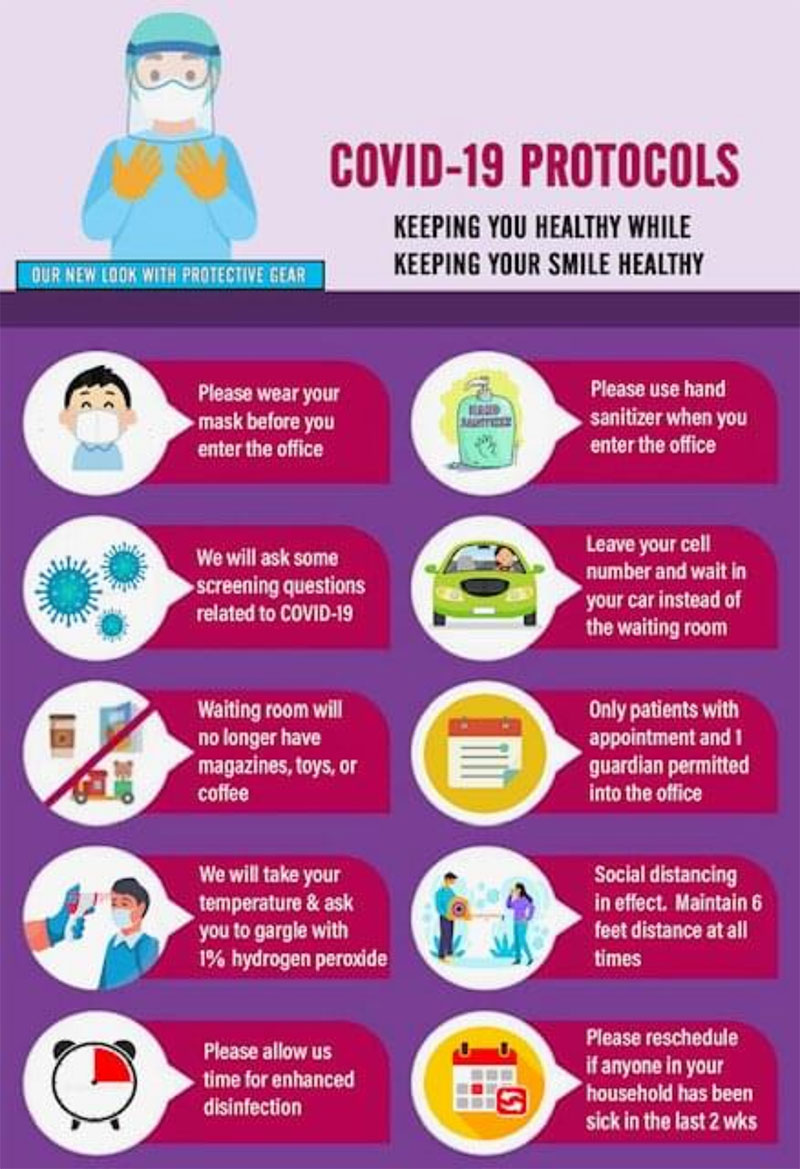 NOW ABLE TO TREAT MOST PATIENTS. BC PANDEMIC PHASE 2.
We really did miss you!
On your next visit you will find some changes in what you see and experience in the office. Same great people, more screening and more caution, same great office!
If you have any questions or concerns about the information provided here, please don't hesitate to reach out.
What happens if my appointment has been cancelled?
We have always been here answering questions about your dental appointment and have been trying to reschedule all appointments during this government mandated closure. If you're worried about your particular situation, please feel free to contact us. We are available all week during our usual office hours. Emergency contact information is available after hours and weekends.
What is a dental emergency?
A dental emergency is something that should be looked at right away. An emergency includes:
oral-facial trauma caused by an accident or blow to the face
prolonged bleeding of the mouth, tongue or cheek that lasts for longer than 15-10 mins
significant infection
pain that cannot be managed by over-the-counter medications
We consider a broken or lost temporary crown to be urgent, please contact us if this has occurred.
What should I expect at an emergency appointment?
We are taking the utmost precautions to minimize your risk and the risks to our staff at this time. At your appointment, staff will all wear appropriate personal protective equipment for each procedure, maintain the highest level of infection control measures, and, wherever possible, isolate you from other patients and staff members. If you happen to cross paths with another patient or staff member, be sure to keep 2m between you at all times.
When do you expect to reopen for non emergency dental treatments?
We are eagerly awaiting Dr. Bonnie Henry to give dental offices the go ahead to reopen for non emergency dentistry. When we open, we assure you that our office will meet and exceed any recommendations in providing the safest environment for our patients and team!
Prevention can reduce your risk of an emergency during this time
Now more than ever, prevention should be a priority. Please remember to:
Maintain regular oral hygiene by brushing twice a day and flossing at least once a day.
Follow any additional personal hygiene recommendations from your hygienist.
Clean dental appliances regularly.
Remove dentures or removable prosthetics before sleeping.
Use a mouthguard while playing sports to prevent injuries.
Avoid eating ice or other hard foods, as well as sticky toffees.
Avoid using your teeth as tools or for anything other than eating!
Replace your toothbrush every 3 to 4 months or if the bristles become frayed.
In the meanwhile please be safe. We look forward to helping you maintain a Lifetime of Bright Smiles!